Flat Electric Cable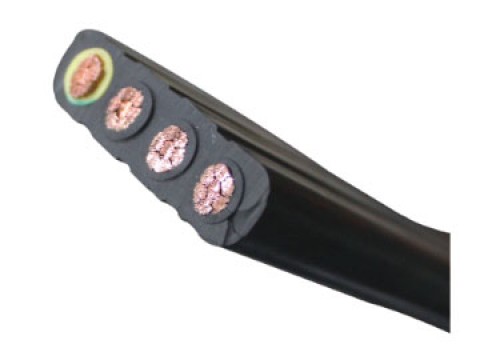 Properties:
Sheath: special polychloreprene(Butadiene-acrylonitrile rubber),it remains fexible at -15°C flame resistance and self-extinguishing
Structure:
Conductor: Superfine copper strands acc. to VDE 0295,class 5
Insulation: Mixed pvc, resistant to oil, flame resistance and self-exitinguishing
Colour: acc. to 227IEC (brown, blue, black, green/yellow) 5 cores or more with black number with white digital coding
Sheath: Butadiene-acrylonitrile rubber; resistant to oil, flame retardant and self-exitinguishing;
Colour:black(RAL9005) OR Grey(RAL 7001)
Standard: acc. to VDE 0482, part 265-2-2 resp.EN 50265-2-1 and IEC60332-1
Technical data:
Rated voltage: ≤ 1.5mm: 300/500V ≥ 1.5mm: 450/750V
Test voltage: ≤ 1.5mm: 2500V ≥ 1.5mm: 3000 V
Minimum bending radius: 0.3m≤L≤0.6M
Burning vertically test: GB/T1 8380.1-2001, IEC60332-1:1993 test
Passedstandard: GB5023.6 , IEC60227-6, EN50214.
Temperature range: -15°C to +70°C
Cables are recommender for installations where the suspended length doesnt exceed 80m :and the speed of travel does not exceed 4m/s.
YFFB Flat Cable